Engineered Wood Fiber Delivery and Installation in Washington DC, Virginia and Maryland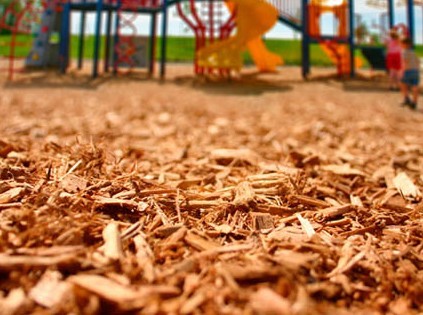 We deliver and install Engineered Wood Fiber, a higher quality playground mulch, throughout Washington DC, Northern Virginia and Maryland. Our certified Engineered Wood Fiber is a popular choice for many of our clients. It provides a soft and safe surface to children to play on and it is relatively easy to install.
The benefit of wood fiber is, it is compliant with the Americans with Disabilities Act (ADA), because it forms a single flat surface that wheelchairs and crutches don't get stuck in. Also, certification of quality is available for our wood fiber, whereas you can't get certification for standard playground mulch. About the only drawback to wood fiber is, the small pieces stick to kids' clothing. But this is a small price to pay for a quality surfacing product that's certified for playground use. Our minimum wood fiber order is ten (10) cubic yards. (To figure out how much wood fiber you need, just try our helpful calculator here. Our drivers can drop the wood fiber in a pile on your parking lot for your personnel to put down on the play area, or our crews can do the installation for you. For an estimate, just phone us today at 301-840-0707.
Poured-in-Place Surfacing Installation in Washington DC, Virginia and Maryland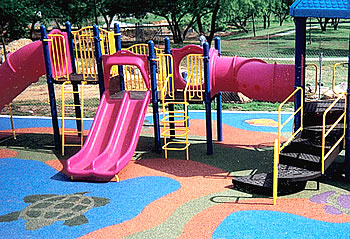 Poured-in-Place is a popular choice for many playgrounds. is a popular choice for many playgrounds. It's the solid rubber surfacing that you see at some fast food restaurants and larger outdoor public parks. It's available in many fun colors or even with custom lettering and designs in it. We install Poured-in-Place surfacing througout Washington DC, Virginia and Maryland. The benefit of this surfacing is, it lasts a long time. The drawback is, it's capital-intensive: you need to invest the cost up-front instead of a smaller yearly top-up payment, as with playground mulch. If you would like a quote on getting Poured-in-Place surfacing installed in your playground, just give us a call at 301-840-0707.